Namaste. Please visit our gallery of friends and well-wishers.
Gita Saulnier, Ustad Amjad Ali Khan & dance great Subbalakshmi
A visit with Ustad Shahid Parvez
Ustad Ji trying out one of our VK model sitars
Pat Thokcham, Mita Nag, Prasanna Kumar Thokcham, Pt. Manilal Nag, Roger Worldie, Keshav Das and Gita Saulnier at a dinner party for Pandit Ji.
Inni Singh making final quality inspections
Mohan Kumar tuning a Signature 23 at DMS
Om Prakash building a Signature 23 at the DMS workshop
Visiting with JK Sengupta at his North Calcutta workshop - Mita Nag on left.
Technicians tweaking scale - changers at Monoj Kumar's
One of the Kumar bros. completing jawari work on a new sitar.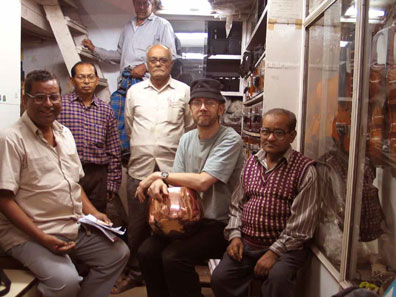 Visiting with Monoj Kumar and family
The J. Mondal posse - Calcutta
Mondal Sahib preps our tanpuras - Calcutta
Mondal Sahib and his foremen - Calcutta
Expert jawari work at J. Mondal & Co - Calcutta
At home with Qasim Khan Niyazi - New Delhi
Pt. Ram Narayan and Gita Saulnier
At Home with Ustad Sabri Khan
Trilok Gurtu trying out tablas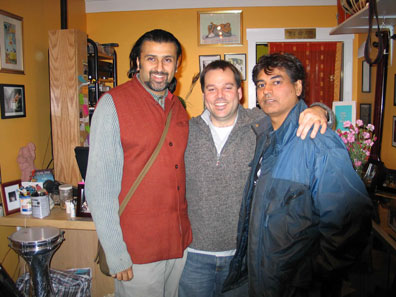 Ghazal singer Vishal Vaid
Tabla Workshop with Narendra Budhakar
Sukhdev Singh our sarangi, esraj-technician and our friend Inderji
Siar Haseq - Keshav Music's Tabla repairman
Keshav Music's repair & jawari-wallah Prasanna Kumar
New Delhi TV Anchor Maya Mirchandani
Ghatam Wizard Vikku and Sons
Pt. Jasraj protege Anjula Prasad with Tabla-walli Rimpa Shiva
Bhajan Singer Deepak Kumar
Post concert visit from Ustad Shabbir Nisar, Daniel Johnson, Prasanna Kumar and Prabhakar Rao
Kirtan Great Vaiyasaki Das Live At Keshav Music
Krishna Ji breaks open a new Rikhi Ram tanpura
Babukishan Baul - son of Purnadas Baul
Babukishan Baul Live at Keshav Music.
Kirtan-wallahs araati with Krishnadas - Kainchi - U.P.